After purchasing the Music Man brand and factory in 1984, the Ball family has been dedicated to hand-crafting the finest instruments for musicians all around the world. At DuBaldo Music, we have access to all production models including the John Petrucci, Majesty, Axis, Steve Morse, Steve Lukather, Cutlass Guitar and more!
The Instruments
To craft their signature guitars, Ernie Ball Music Man combines dependable consistency with human touch. Through the use of pre-programmed CNC machines, you can expect reliable production of bodies and necks while experienced craftsman pay close attention to the fine details. Each guitar is hand sanded and finished to emphasize that every instrument is unique.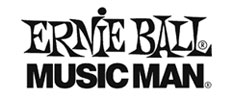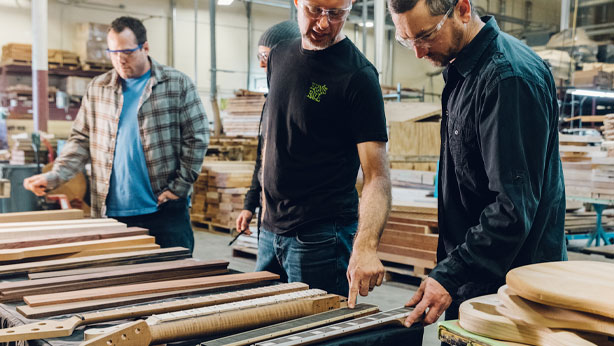 DuBaldo & EBMM
DuBaldo Music was personally invited to tour the Ernie Ball Music Man facility where we were honored to experience the entire Music Man production line from start to finish. Starting at the very beginning where the raw wood is stored, we experienced the unique guitar creation process. Each step was more mesmerizing than the next. Beginning with the carving of the body and neck, then the application of the fret board, and finishing off with hand fitting, staining and sanding of each instrument.
We also offer exclusive runs on one-of-a-kind Ernie Ball Music Man guitars custom built for DuBaldo Music. These pieces are designed by owner Pete DuBaldo, alongside Ernie Ball Music Man engineers and sales staff.
Ball Family Reserve
Each release is limited with exclusive finish options and special addition packages.
"Ball Family Reserve is a celebration of our heritage in instrument craftsmanship which features some of the finest figured tone woods and finishes available. These rare pieces are offered in limited production runs and allow us to present instruments to the public that were previously reserved for family and our loyal artists."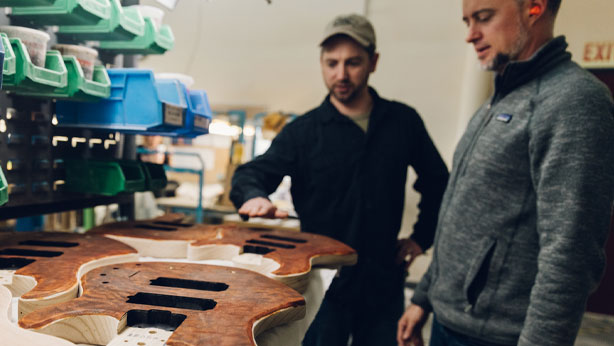 ---
Tired of running multiple cables from your guitar?
Our Splitter Box, crafted in-house, allows you to use a single TRS cable from your guitar to send both the acoustic and electric guitar sounds to separate amplifiers. These splitter boxes will work with your piezo-equipped Ernie Ball Music Man guitar or bass!

We offer payment plans and financing starting at 0% for qualified buyers. Start rocking and get your Ernie Ball Music Man guitar today!