DuBaldo Music is proud to be one of the largest and most active independent Ernie Ball dealers in New England. Since 2004, we have been dedicated to becoming experts on all things Ernie Ball. We have toured the factory multiple times and maintain daily communication with the staff. Whether you love to rock and roll or wind down with some jazz, Ernie Ball has great product offerings to fit every genre. Our wide selection of Ernie Ball Music Man guitars, basses and accessories are second to none. At DuBaldo Music, you can find the Ernie Ball strings, straps, picks and other gear needed to fit your desired style.
Our Ernie Ball inventory includes a variety of hand-crafted instruments and guitar-related accessories for all musicians. We carry popular Ernie Ball Music Man models such as StingRay Basses, the John Petrucci JP15 and Majesty, Jason Richardson Cutlass, the Valentine and more. As one of Ernie Ball's most committed dealers, we have access to all the latest strings and accessories. At DuBaldo Music, you can expect to find some of the lowest prices available. We have product options for all budgets and are happy to set up deposits or payment plans for you.

"The DuBaldo family are family to Ernie Ball Music Man! Not only do they know our instruments better than most anyone, but they also know the artists who play them and the family and company that make them on a first name basis!"

— Brian Ball, CEO of Ernie Ball inc.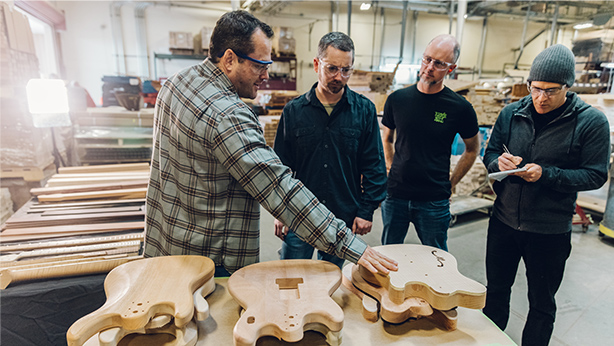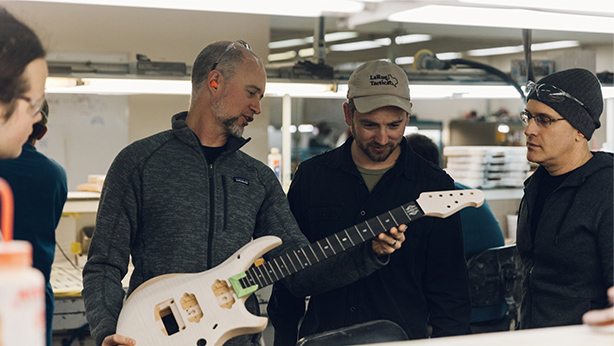 Family Tradition
Similar to our DuBaldo Music family business, Ernie Ball is a 3rd generation family owned and operated business. Founded in 1962, the Ball family created their brand known for its quality standards, innovative design and fine craftsmanship. Every string, accessory, guitar and bass are designed with the utmost precision and attention to detail by experienced craftsmen. This personal touch makes you feel like the instruments were uniquely created just for you!
Get your hands on the Ernie Ball strings that helped shape the sound of world-class musicians like Paul McCartney, Jimmy Page, Keith Richards, Eric Clapton, Slash and Buddy Guy, and the Ernie Ball Music Man guitars played by masters such as John Petrucci, Steve Morse, Steve Lukather, and Albert Lee.
Leading the industry with quality craftsmanship
The designers and engineers of Ernie Ball Music Man work hard to create one-of-a-kind instruments. Each fret is hand-applied, and every neck is hand-sanded to create the ideal finish. By using the latest technology, they can ensure consistent production standards are met, and that each guitar provides musicians with the ultimate playing experience.
Ernie Ball Music Man guitars are skillfully crafted by experienced craftsmen from high-quality materials. Here at DuBaldo Music, each instrument is personally inspected in-house by the DuBaldo family, cleaned, tested and tuned so you can start playing right away!