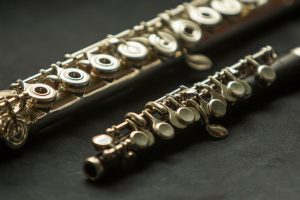 Did you finally get your own flute? Congratulations! Before you start playing, it's important to know how to care for an instrument. Proper maintenance can help prevent damage and keep your flute in top playing condition.
The flute is a beautiful woodwind instrument with many parts that need attention. Here are a few tips on how to care for your flute.
Cleaning
Unlike many other woodwind instruments, the flute is reedless. It uses the flow of air to produce its wonderful sound. Blowing warm air into a colder flute can cause condensation to form inside the instrument. To prevent this moisture buildup from causing any damage, you can keep it dry by swabbing the inside after each use.
Investing in a good cleaning kit can be very helpful. These kits usually contain swab cloths, a cleaning rod and duster brush. You can also ask our experts at DuBaldo Music Center for the best tools to clean your flute.
Store it Properly
It's also important to make sure your flute is taken care of even when you're not using it. A hard-shell case is the best option for protecting this instrument. The stronger, the better! At DuBaldo Music Center, each flute comes with its own protective case.
Where you store the flute is just as crucial. Ensure it's in a location where your instrument won't be exposed to moisture or potential accidents. Keep it away from excessive heat, like next to a radiator or colder temperatures, like the garage during winter.
Regular Maintenance
Bringing your flute to the experts can help prevent minor issues from becoming major ones. Schedule regular maintenance at DuBaldo Music Center to keep your instrument in the best possible condition. If you rent from us, we include free maintenance and normal repairs!
Whether you're looking for a new instrument or tips on how to care for one, contact DuBaldo Music today.