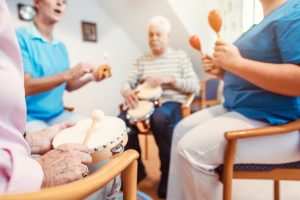 According to the American Music Therapy Association, music therapy is the clinical and evidence-based use of music intervention to improve the overall well-being of an individual.
In more basic terms, the therapeutic use of music addresses physical, mental, emotional and social needs. Music therapy encompasses a range of activities, from singing and listening to music to playing an instrument. This therapeutic relationship with a professional can address a variety of healthcare and educational goals.
Music therapy first became popular after World Wars I and II, when musicians would visit hospitals and play for veterans who were suffering physically and mentally from their time serving. It has since expanded to help those with special needs, depression or anxiety.
Music therapy can also help individuals with physical health problems manage pain and movement! Here is what you should know about music therapy.
Music Therapy Techniques
There are many different types of music therapy. A professional therapist will determine which approach is best depending on the client's needs. Some techniques used by therapists include listening to music, playing an instrument, singing familiar songs, dancing, writing music or discussing emotional reactions to certain pieces.
Therapists may take a more receptive approach for individuals who are nonverbal or more passive. For those who would benefit from higher engagement, it may be recommended they participate in a group session.
Benefits of Music Therapy
One great thing about music therapy is that each session and technique can be customized to help someone meet their specific goals. This form of therapy can be beneficial for people of any age with any level of musical experience.
Music therapy is known to help people gain confidence, relieve stress and bring an overall sense of calmness to a person. It can also help improve cognitive functions like memory, movement, emotions and sensory relay.
According to healthline.com, playing an instrument in music therapy sessions may help those suffering from chronic pain or healing from an injury. It has also been shown to lower pain levels, blood pressure and heart rate!
Who Can Music Therapy Help?
Music therapy can help many people, especially those with autism, anxiety, Alzheimer's disease, depression, PTSD and difficulty with communication. It can also benefit those with physical conditions like chronic pain, headaches, traumatic brain injuries or those struggling with movement and coordination.
According to verywellmind.com, it's suggested that music therapy can also help people with insomnia, OCD, schizophrenia and certain neurological disorders.
If you're interested in music therapy for yourself or a loved one, your doctor can connect you with local practitioners. Although we don't offer therapy sessions at DuBaldo Music Center, we can support your sessions with an instrument and lessons, should you discover a new passion!
Do you think you can benefit from playing an instrument? Find the perfect one for you at DuBaldo Music Center!