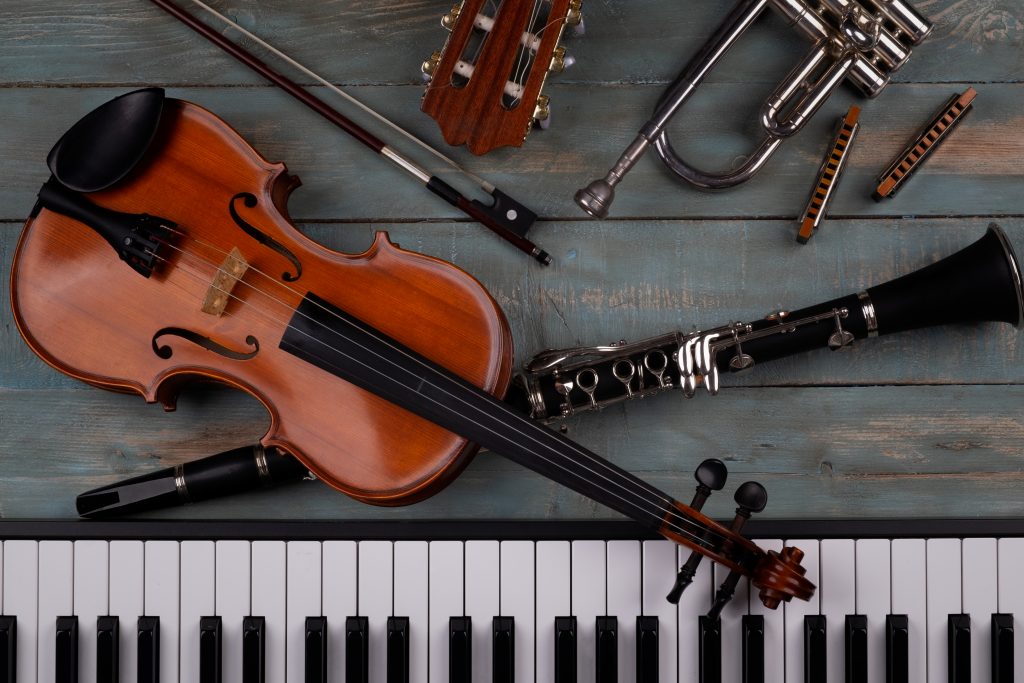 Congratulations! You've decided to begin your musical journey and develop a new skill set. Yet, you may not know which instrument will be the right fit for you. In this case, renting has many advantages. It's an easy and affordable way to get started playing music, without committing to the purchase of an instrument.

Although the rental process can be exciting, there are a few things to ask yourself first. What should you consider before renting an instrument?
1. Which Instrument Do You Want to Play?
The most important factor of renting an instrument is choosing the one that will best suit your desires. If you are unsure where to start, think about what music you like.
If you enjoy listening to an acoustic folk sound, you may want to consider the guitar or violin. It's also important to note why you want to learn to play. If you are looking for an instrument to complement your singing voice, you won't choose to rent a flute or trumpet.
You should also keep in mind your specific goals and circumstances. A young child wanting to play in the school marching band should consider a band instrument versus an orchestral instrument. If you're still unsure, our experts at DuBaldo Music are here to discuss your musical passions and help find the right choice for you!
2. Should You Rent or Buy?
Next, consider if renting or buying an instrument is the best option. If you are confident this instrument is for long-term use and you're ready to take on that responsibility, you may consider buying it. However, if you're not 100 percent ready to commit, renting is the ideal choice.
Renting from DuBaldo Music gives you the flexibility to return the instrument at any time for no additional cost. Renting is great for the short term but can also benefit you in the long run, if you choose to stick with one instrument. Not only can it save you money, but you will also have access to the benefits included with your rental package!
Our Rent-to-Own Program lets you rent an instrument while building equity towards owning it. Whether you want to play a saxophone, flute, trombone or viola, you can enjoy all aspects of the instrument before buying it.
3. What's Included With a Rental Instrument?
It's important to consider what's included with a rental instrument. Some programs may have hidden fees when it comes to repairs or returning the instrument. At DuBaldo Music there are no hidden fees! – Our up-front pricing for each rental instrument includes sales tax as well as standard maintenance along with normal wear and tear repairs.
Still have some questions? Don't worry!
What size instrument is right?
If the instrument needs to be properly sized for you to be successful, this service is also available for no additional cost.
What happens when the student grows?
All violin, viola, and cello rentals include any necessary changes in size to best fit the player.
Oops – wrong instrument!
If a student rents an instrument and in the first school year decides it isn't the right one for them, we allow for a one-time exchange with full transfer of all earned equity.
(Example – student is renting a flute but they (and their teacher) think that clarinet is a better fit, we can exchange instruments and transfer equity.)
Returning the instrument?
Return at any time, there is no penalty to return the instrument! (Please note that rentals are not pro-rated/refunded.)
I love it! Can I buy the instrument?
You can pay the monthly rate until the instrument is paid off; or you can choose to purchase at any point with a significant early payoff discount on your remaining balance – whichever option works best for your needs!
Ready to play?
Rent your instrument for band or orchestra at DuBaldo Music today!